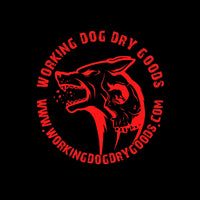 Who are we?
We do several things. We like training dogs, we like making T-shirts, we like painting muzzles, we like drinking beer, we like tattoos. We appreciate the need and use of K9s from front line apprehension to therapy dogs and everything in between. If it is a working K9 we have got you covered.
Info@workingdogdrygoods.com
(352)895-2157
SHIPPING INFORMATION
SHIPPING ANNOUNCEMENTS
PLEASE NOTE THAT MOST ITEMS ARE HANDMADE TO ORDER AND WILL HAVE LEAD TIMES LISTED IN THE PRODUCT DESCRIPTIONS.
LEAD TIMES ARE ESTIMATIONS, SOMETIMES WE GET MERCHANDISE OUT QUICKER AND SOME TIMES WE FALL BEHIND. WE APPRECIATE YOUR PATIENCE.
SHIPPING TIMEFRAMES ARE ESTIMATES BY THE CARRIER (EXAMPLE - 2 DAY USPS PRIORITY IS THEIR TIMEFRAME ONCE THE ITEM IS DROPPED OFF AT THE POST OFFICE NOT THE TIMEFRAME FOR US TO GET IT TO YOU!!!!)
IF YOU CHOOSE USPS FIRST CLASS MAIL THE MERCHANDISE WILL BE TRACKED BUT IT IS NOT INSURED AND IF THE ITEM IS LOST WE CANNOT FILE A CLAIM.